Select Santa Moments a personal recap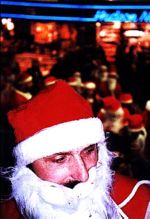 photo by S. Cape Claus
I recall some of the purely serendipitous and occasionally moronic occurrences on our NYC Santa adventure. Although a personal account, this is not to be confused with fiction.
Like so many others, I have a hard time with Christmas. I've never been able to resolve the "Sleigh Ride Through a Perfect, Snow Dusted Currier & Ives Small Town World That Never Was" with the creeping commercial blot of pure greed, competitive acquisition, and familial guilt that Christmas largely is. You can imagine my surprise then, when I was overwhelmed with what was evidently genuine Christmas cheer; not just once but several times during our recent escapades in New York. The moments of True Terror and Comic Misunderstanding were of course also there, as in years past. Balance was maintained overall, and whether we deserved it or not, a fine time was had by all.
Right after Santa Barbara initiated a Pyramid O' Santas just across from THE Saks 5th Ave., somehow we ended up mobbing a young couple and their infant child (dressed as a mini-Santa) on the side walk. The looks of pure unadulterated wonder on their faces was enough to melt the hearts of a dozen Scrooges. Even our sodden and more surly Santas were helpless in the face of this paroxysm of pure joy. The chorus from Todd Browning's movie, "Freaks" was struck up: "Make him one of us; one of us; one of us, gooble gobble, gooble gobble, one of us, one of us etc, etc," The Santas chimed in en masse. And it was so. We left them dazed and grinning ear to ear as we set off for Central Park.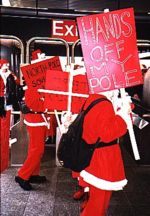 photo by S. Cape Claus
Earlier we had protested at the United Nations; our placards reading: "Stop the Holly Caust", "UN out of North Pole", "No more Reindeer Games!", "Satan, think about it." and such. Kofi Amman's UN security was scrambled to deal with this weird and unexpected onslaught, but Santa was already gone. We were making our way to Rockefeller Center and THE TREE.
This Tree, the largest Christmas Tree on display anywhere in the world, is to Christendom what the Caaba is to Mohammedism. It is, for better or worse, the spiritual center of America. Like the Caaba the pilgrims come and circle round and round the Holy Icon in a breathtaking crush of humanity. Also, like the Caaba, the very mass and overwhelming number of devotees is weighted with potential violence and encourages the most rodent like of human behavior.
Our ninety or so Santas were completely lost in this storm tossed sea of dysfunctional families and lost Yule-souls. We were barely able to stick together; in order to escape the thousands of snarling, brutish fathers, shrewish, greedy mothers and terror stricken tots-in-tow, we had to shoulder our way through an increasingly mindless mob. Ascending the side stairway exit I looked back over the multitude of grim/ecstatic faces ever pushing closer to THE TREE, in an Xmassy out-take from the "Day of The Locust" where Donald Sutherland's bloodied and lifeless body was passed above the heads of the crowd, in a silent balletic frenzy. Needless to say, we were in need of some Christmas Cheer after we had escaped this outer circle of hell.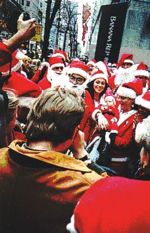 photo by S. Cape Claus
After our interlude with the beatific family on 5th Ave. we moved On. A brief pass through Saks (chanting, "charge it, charge it…."), then on up to Central Park East & 59th St. where we prepared for our assault on The Plaza Hotel.
As we learned in Portland in 96, all it takes to keep a gaggle of Santas out of a hotel is someone standing in the doorway. Consequently, we were preparing to come at the Plaza from a side door (if we could find an open one) in as much of a coordinated rush as could be mustered with such an anarchic clot of kringles.
The various control Santas; Rich, Mike C., Julia S., Abernathy, etc were herding the mass around from 5th Ave. onto the side street while I ran ahead to check access. The 58th St. side doorway was locked and it appeared that our only chance would be a quick run at the grand entrance.
I looked back to see that the mob O' Santas had stopped in one big mess in clear sight of the hotel main entrance. Oy vey!
I ran back to find them serenading a rather stout and cheery looking fellow they had discovered standing on the corner. This was Santas' big NYC celebrity moment.
The cheery fellow who was now singing along with Santa was filmmaker, Michael Moore. Good Grief. We couldn't run into Harvey Keitel or maybe Ed Koch, it had to be another frigging prankster!
The element of surprise lost, we rushed the front door. The doorman, after being reassured that we were indeed Santa, was brushed aside by the rising red tide. I (literally) ran into a matron wearing a tiara that, no doubt cost more than I'll earn in my life. The soiled and cheering Santas milled about the main floor for about one minute before we were entirely surrounded by men in shiny shoes, with bulges in their jackets and wires in their ears. Ho Ho Lock & Load Ho Ho Ho.
Realizing that we had spread as much good cheer as we were likely to in the Plaza, I approached a fellow who was talking into his cuff and addressed him: "Hey, buddy, we're a bit lost; do you know how to get out of this joint?"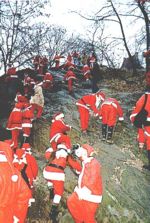 photo by S. Cape Claus
Back on the street, about 80 strong, we headed for Central Park. On the way we took a break at a picturesque granite outcropping just past the park's horse carriage depot.
Many Santas, myself included, tried out our rusty rock climbing moves on this 5/9 to 5/10 pitch. Lurching, hesitant Santas dotted this cold, black granite wall; serious injury or death just a missed hand hold away. Santas' luck held & we were off again, over the hill to spread good cheer to the Ice Skaters at Wolman Pond.
We came over the rise en masse. The sky was frozen in an impressionist blush of pinks and blues. We flowed into a perfect vale, ringed about with denuded maples and sycamores; one of Frederick Law Olmsteds brilliant Gothic bridges anchored the northeast corner of the scene. Like Bedouin tribesman attacking a derailed Turkish train, we raced towards the dumb struck skaters screaming: "MERRY CHRISTMAS, HOHOHOHOHOHOHOHO."
It was one of those moments. As the hundreds of stalled skaters regained their equilibrium and began cheering, I teared up for just a moment, a catch in my throat. This was what Christmas was supposed to be about: true child-like wonder, genuine heart felt good cheer.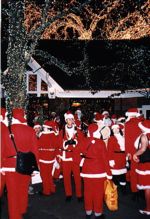 photo by S. Cape Claus
Santa moved on through the park as night fell. We made our way to Tavern on the Green, a fine restaurant situated in the middle of the park that catered to the well-heeled tourist trade. The Tavern's Christmas light display was our guiding beacon through winter night's swelling gloom. Multicolored bud lights festooned the Tavern and surrounding forest for hundreds of feet in all directions. It was a truly astonishing castle of illumination; a benchmark of Holiday decoration for suburban house holders from Poughkeepsie to Pomona.
After Santa checked his pocketbook and realized to his embarassment that he couldn't afford drinks at the Tavern, much less dinner, we struck out for the Village and 6th Sts. Indian eateries. Another crimson tide subway ride was punctuated by brazen New Yorkers high-fiving Santa and demanding expensive gifts (I wanna Porsche, a Rolex. a date with Cindy Crawford……).
After dinner we caught the "A" train to the Brooklyn Bridge stop. The huge Indian meal I had just eaten had set my bowels in motion with a presumedly unavoidable outcome.
This was a scenario fraught with potential for profound embarassment. I was hoping to run up the cables of the Brooklyn Bridge using the still impressive number of associate Santas as cover should the authorities take notice. Needless to say, an "accident" during this adventure would deflate substantially any romantic appeal such a stunt might have. Not to mention that spewing on my comrades below would, of course, dampen their Yuletide cheer, and no doubt lessen their resolve to act as cover should the police undertake a Santahunt.
One of the two public toilet facilities left in Manhattan by the magnanimous Mayor Giuliani was, by some miracle situated in the very same park where we exited the subway. It was, of course, out of order.
But–I had an acquaintance who lived on Chambers St. about a block away. I took off in that direction as my fellow Santas filtered out onto the pedestrian promenade of the Grandest Bridge in the World.
Hitching my suspenders, I raced back to the bridge, and one of those moments that come ever so seldom in one's life.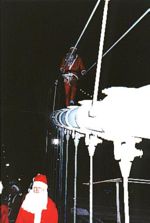 photo by S. Cape Claus
Santa Dennis was game and, being no stranger to truly stupid and dangerous activities, he agreed to accompany me to the top of the Manhattan shore Brooklyn Bridge Tower.
We ascended parallel cables on either side of the promenade. There was a gulf of about forty feet between us as we peered across the span during our ascent. As we climbed, we were provided a much more personally focussed visual component in an already surreal panorama.
They call Paris the City of Light and, no doubt it is. However, the colosal wall of light that is Manhattan is paralleled in imagination only perhaps by the fabled city of Oz. It is a vision that can be held in one's perception only in part or possibly from a great distance.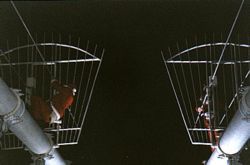 photo by S. Cape Claus
The very moment I was stepping off of the connecting ladder from the cable to the flat masonry top of the bridge, the very second we made it to the peak, the Santa cell phone in my pocket rang. It was Santa Ducky Doolittle, inquiring as to the Santas whereabouts. In the most blasé tone I was able to muster, I replied: "Well, actually at the moment we're……………"
Back on the mean streets, Santa William herded the Crimson Mob over to his favorite cop bar which to my great disappointment was closed. Another near miss at a karaoke bar (too small for fifty Santas) and Santa Mike suggested a wise guy bar that Sinatra used to drink at in Little Italy.
It was a good call. No mooks in this joint; Santa was more than Welcome–especially the lady Santas. As we were rolling on out after several Holiday libations, the wizened Sicilian proprietor made a point to say (while eyeing Santa Julia and Santa Barbara): "Youse Santas come back any time, capisce?"
Our next stop (and the final one for this Santa) was a goth/vampire club in the West Village called Mother.
Santa Ducky, bless her Little Heart, had somehow arranged to have the door fee ($15 !) waived for all Santas.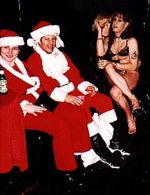 photo by S. Cape Claus
Black & Red mingled on the dark and turgid dance floor, undulating and gyrating to the cheery strains of Ministry, Joy Division and Nine Inch Nails. The ever so seriously moribund and style-conscious Goth Rockers did their level best not to notice the Santa invasion.
Even so, I swear I saw at least two or three perfectly coiffed lounge-lycanthropes crack an uncharacteristic smile at the idiotic Santa escapades. For this transgression of decorum, they no doubt suffered some extreme punitive measures at the hands of their disdainful peers.
And so, our work in Manhattan finished, Santa Squid, Santa William and I were off to Williamsburg on the "L" train for a four am slice o'pizza and a well-earned sleep.
-Santa Melmoth
MERRY CHRISTMAS TO ONE AND ALL AND TO ALL, GOODNIGHT!